Need to submit a paper at 11:59 tonight and didn't read the text? Don't want to plagiarize and get kicked out of college? I've got your back. I consider myself a good writer. This whole blog is about my writing. But I don't always cover my academic writing, I am a creative fiction writer.
So from a person who takes English classes for fun, here are 5 steps I use that'll surely that help. Because even though I love to write ( creative writing & Fiction ), I most definitely have major procrastinating moments for the papers I have to write in college. I find myself writing last-minute papers way too often. But this method is one that I have consistently used this past semester. And it has definitely helped me score A's and B's for papers I've submitted at 12 AM.
Maybe you're reading this post hours before your paper is due. So I'll try to make this quick.
Step 1: Read The Instructions and Details of The Instructions
The first step and first most important step is to read the instructions. If you want to write a decent or really good essay quickly you have to know what your teacher wants. What does he/she want you to know and write? The answer to that is almost always in the paper instructions given by your professor and in the syllabus.
Not all assignments need you to talk about every single thing related to a text or subject. Most papers address aspects of a greater topic. So knowing what you need to address exactly will help you write a concise paper and save you time on research.
If your essay is a summary, then you may need to know much more about a text or topic, compared to instructions that only request more specific information. You can then just skip to the next section.
Let's use the story of the three little pigs as an example. I'll be your (temporary) professor for this post.
Prompt: I want you to write a 1000-word essay explaining why one of the pig's house fell down compared to the pig whose house stood up in the story of The Three Little Pigs.
You should see from this example paper prompt that you don't need to know about all pigs just pick one other than the one whose house stood up. You don't need to know too much about the wolf or why he came to blow the pig's house down. You don't need to read the whole story or know where the pigs got their materials from. But you do need to do a classic compare and contrast essay that draws the right kind of conclusion.
Let's pick the first pig who built his house with straw and the third who built his house with bricks ( the third was the only pig whose house was built sturdily).
So step 1 in writing your college paper quickly is to know what exactly you need to address in your paper: What does your professor want you to write about.
Trust me on this one. Outlining may seem like a weird second step. But doing it as your second step keeps the process quick and concise. Honestly outlining is the secret weapon for my papers. No matter if I start them early or late, it helps to keep my writing process productive. But if outlining second doesn't work for you, feel free to move it down to step 3 or 4.
Use the information you gathered from Step 1 to form first a basic outline. Using our little pig prompt from Step 1, we know that the essay requires you to compare and contrast. Which already gives you main 3 main parts/paragraphs to include in your outline (the first little pig's house, and the third little pig's house and then a compare and contrast of the two). If we include the introduction and conclusion, that's already 5 parts/paragraphs. The prompt also requires you to highlight the pig's poorly built house, which is an extra paragraph and section. This paragraph/section highlighting the first pig's poorly built house is why the comparison is even needed in the first place. So our comparison must help us prove why the first pig's house fell down. This should also be the central theme of our conclusion.
After you have a basic outline you fill in that outline with questions and notes for you to expand on and make those sections/paragraphs full and longer. An outline for this essay can look this.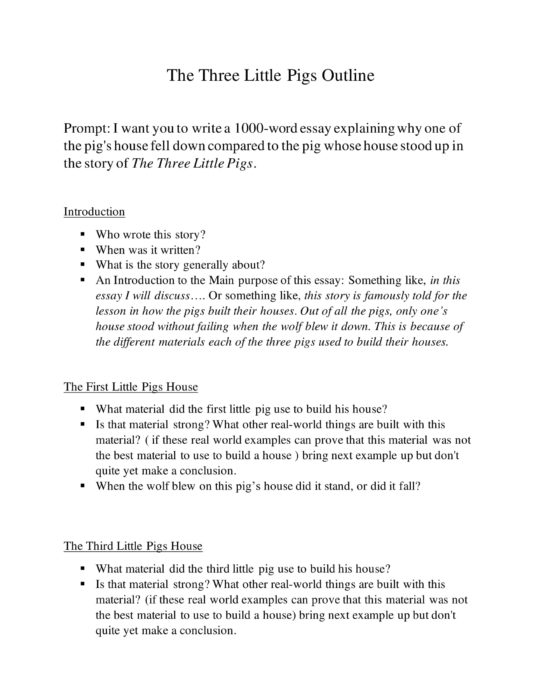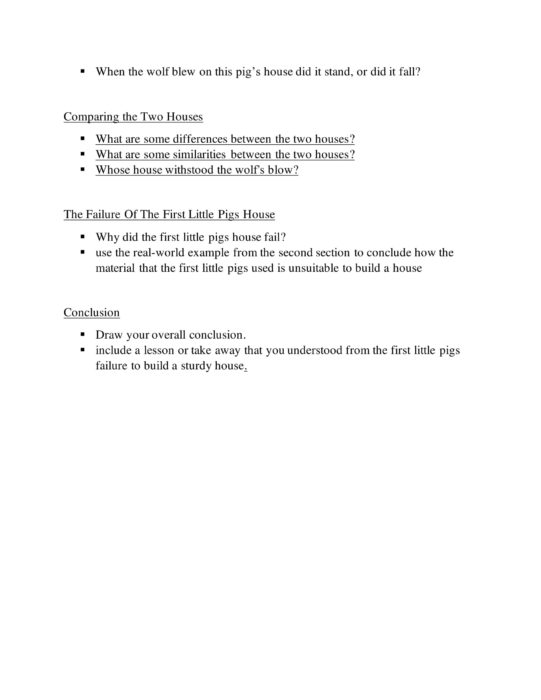 Step 2 is to outline your essay: Organize the big and small points you need in your paper ensuring that you answer the prompt in a cohesive way.
In order to write a paper quickly, you have to have to know what you're writing about. This section could also be renamed research because for this next step you need to do some light research about the things you need to address. If your paper makes it clear to the Professor that you did not read up on the text, you will get an F or poor grade no matter if you submit it early or on time. So use the questions and instructions you got from step one, and the things from your outline to conduct specific research. Remember that you don't have to become an expert on the topic or spend hours on research. If you're rushing, 15 to 45 minutes should be good enough to help you get the gist of the topic.
Let's use our three little pigs prompt example I mentioned in step 1: You know that from step 1 you need to only research the poorly built house of one pig and the successfully built house of the other pig. You may also want to research a bit about the piece.
If you're in a rush you'll want to go with a very classic and basic introduction, where you give a brief background on the piece. Depending on the class you're taking and the word count you have to fill, this background could be extended and include its history and some interpretation of its purpose.
Depending on the kind of approach taken to write an essay each person may feel the need to include more or less information. But remember you may not need to know everything. This is something I've had to learn when running out of time to submit an essay. I had to write an essay on whole historical topics and found it difficult to figure out what I needed for the paper. But having the outline and instructions helped me cut down on things I researched.
If your paper is based on a text, this is the best place to start the research. Next, Google is your best friend. It'll help you find great and reliable information. Many universities also have a database where you can find great sources and texts for information in the school's online and in-person libraries. This could be an easily accessible resource for you.
If you wanted to include a summary and had that listed within your outline you could watch a brief video on youtube that sums up the story (if there is a reliable video available). This video should help you get enough basic `and crucial information about the story to help you write an accurate summary. Don't go binge-watching every video related to the topic…
In Step 3 you need to research information on the specific kinds of information you need from the text based on your points in the outline you've created from step 2.
Finding supporting evidence/quotes to cite in your paper should be done at the same time as step 3. If your paper (prompt) isn't based on a text , quotes are still great to use if you have a little extra time. If you wanted to do an extended background, you could include a remark about the story from a newspaper or critic or someone notable and reliable enough.
Using our Three Little Pigs Example from Step 1: you could type in google, "the three little pigs review" or "three little pigs article". You could also just put the newspaper at the end: like the "Three Little pigs New York Times". I did that and found this quote from the New York Times that said "These books involve young pigs, so they are best understood and appreciated by young people." I've added that to the outline. So that when I am ready to write I can easily access all my evidence.
So in step 4 find quotes to attach to each (or some ) section (s) of your outline if necessary. Attach with the website address you found them from if needed for a bibliography.
Now that you have everything you would need for your paper, you can write easily and quickly. As you write your paper in step five you're just filling the outline and expanding the information you've collected. The outline should guide you paragraph by paragraph and section by section./ until the end. You should also have all the evidence and outside information for the essay listed in your outline so that you can easily copy and paste them into your paper when needed.
Writing the essay should take you under an hour. Or a little over.
Knowing nothing about a paper and trying to write it, does not mix up anything good. But taking about 10-25 minutes for each step (and more if needed) you can write this essay as if you're an expert on the topic. And even better, you'll get a decent grade. If you've made it all the way up to step 5 let me know if these steps made it easy for you
Step 5 – write your paper using all the information you've collected to write seamlessly. Use your outline to guide you all the way to the end.
Extra Tips to Finish Your College Paper Fast
But wait there's more!
Use these tips to maximize your efficiency so that you waste no time in making your last-minute paper as perfect as it can get.
Format First. (This would be done in step 5.) If your paper has to be formatted in a specific way, get it out of the way first: Do your headers or footers, fix your line spacings and paragraph indentations, and don't forget to have the right font and font size.
While you write do have the outline open and accessible. If your laptop or device has this feature, you could have the outline open on one side and the final version of your essay on the other. That way you could be guided by your outline simultaneously.
Use a timer to keep you moving in the right direction. Remember if you're short on time, the paper doesn't have to be the most immaculate and eloquent college-level paper your professor has ever received. Get it done and make it satisfactory. Don't take too long one thing.
Take a look at the rubric and instructions. I've said this in step 1 and I'll say it again. Aiming for the right target makes your work precise and on point. You want to write the right things and waste no time hitting all the marks your teacher is looking for.
Use a good speech-to-text tool to cut down writing time. Microsoft Word had an amazing speech-to-text tool that is decently accurate. Speak as clearly as you can and edit as you go. I've used the Google Docs speech-to-text tool and found that I spent way more time editing my speech than I would if I typed it. But Microsoft Word's accuracy has saved me time. So definitely use that one. If you know a better one. Help me out and let me know.
Spell check! Do not forget to spell-check. I have written many great essays and always find myself getting a great grade with a comment like, spell check, or review your grammar, and whatever else. When I type fast I somehow always miss small typos and miss-spells, that are only obvious after I've submitted it and already spell-checked it. Use a tool like Grammarly to easily spell-check and grammar-check your work. If you're not sure how to spell a long or tough word speech-to-text tools can help with that too, if you know how to pronounce it.
Citations? Use sites like easybib.com and bibme.org to format your citations correctly. These sites do it for you!
Have you made it all the way to the end? Yes! Leave a comment about some methods or things you use or used to get your college papers in on time.
Don't just be a good writer, be a great one!
Until my next words (on here that is),
Christa