12 double-spaced pages of a fiction story.
I submitted 8 pages with 3 main parts, late.
And that just about sum's up how writing my manuscript went. In some ways, it went amazingly well. In other ways, it was so bad. Nonetheless, I learned so much about myself as a writer, myself as a plotter, and how to get over a frustrating bump on the road to finishing a piece.
How Did I Get Inspired?
I wasn't totally sure how I was going to approach the manuscript at first. But I knew I wanted to use my new plotting method to finish the piece.
I considered using a piece that I have already been working on since before this semester. But one day on the train, I was looking out of the window as the train was crossing a bridge, and boom I got inspired to create a whole new piece having to do with survival. And this theme seemed very fitting considering my academic struggle to survive the end of this spring semester.
I won't be revealing too much about the manuscript until the revision is done. But I will give you some hints throughout this blog post. Starting with these three clues
A girl
An island
Friendship
Honestly, I'm sort of laughing at these three clues because although they are accurate clues, the story is nothing like what these three sound like alone.
How Did I Write The Manuscript?
As per the plan I first panstered as usual, writing a little less than a page. Based on my inspiration I basically panstered the scene with images I envisioned for the story. Doing this before any other step is a way for me to
test the waters: feel for what I want or don't want for my story,
set the tone and mood
see how my story may turn out. Sometimes I have an idea of how I want my story to go. But once I start writing things can take a totally different turn.
So panstering helps and it didn't take me too long to do this.
I then took a day or so to jot down any questions and concerns I had about my story's plot. I also jotted down some ideas for the ending. And I must say that jotting down questions and concerns played a big role in developing my plot and story.
It helped me check my goals for certain scenes and explore how I can accomplish them. It also helped me get ahead of any plot holes.
One of the first questions I asked was – Why is she on an island? This helps me understand how I could tackle the significance of the setting and make sure that the reason she's on the island plays a big part in the plot and hooks the reader so that they read more and more.
After panstering, jotting down questions and concerns help me take control of the story
Next, I began plotting with an outline. Then I wrote the story and did a quick revision before I submitted it.
How Did I Outline?
I was so excited to use my new plotting method to write my story and was even more excited to write my story when I was able to successfully outline and plan with ease. My plotting method definitely helped me generate ideas more ideas, beyond the inspiration phase. It also pushed me from scene to scene, which was the main reason I stumbled down the rabbit hole of outlining and planning a story in the first place.
I used Dean Krootz's story structure to outline my story and started out by loosely addressing each point with ideas and intentions I had for the story. I then created secondary points and scenes to address each plot point. Like this…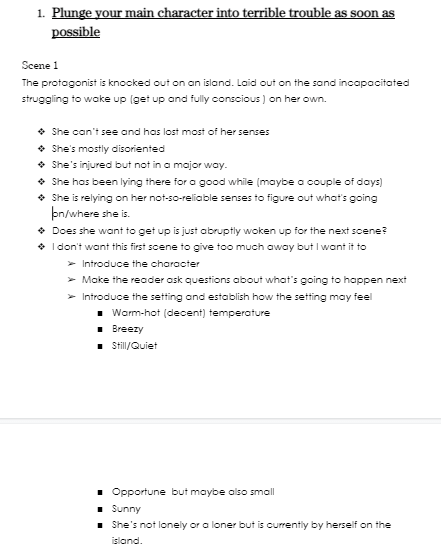 In this snippet of my outlining, you'll see that the first scene I created comes from the first step in Dean Krootz Story Structure. This scene does not have too much action going on. So most of the notes and things I wrote down addressed what I wanted to accomplish in this scene and what is happening. I didn't go too in-depth and don't think I needed to go too in-depth for this first scene.
This first scene is also one of about 3+ scenes that'll fall under the umbrella of step one in this plot structure: Plunge your main character into terrible trouble as soon as possible.
How Did I Get Over Writing Bumps?
When I say "bumps" I mean writer's block, not knowing where to take my story, figuring out confusing sentences/phrases, having too many scene options, etc.
Mind maps, another plotting method, really helped me map out my event options and get over these sorts of bumps as I was writing.
I found out about mind maps as a plotting method while writing this blog post – How To Write A Book As A Plotter: 5 Plotting Methods. The method sounded so fun and practical that it piqued my interest. But it wasn't until I got stuck choosing the right direction for a scene that I decided to use a mind map.
I drew a small map on a dry-erase board and first made spots/map points that tracked what happens in the story from the beginning until my bump in the road. Then I branched out into different scene possibilities. I could've done this in writing but a mind map helped me look at my story from a different perspective ad make a decision. I drew a map every so often and it helped me get over those bumps.
So technically I plotted in two ways: Outlining and Mapping. These two methods surprisingly work very well together.
What Would I Do Differently?
I would most definitely give myself more time. I of course started the assignment later than I could've. Even though my plotting did help me move faster, the piece would've turned out much better if gave myself more time to perfect it. I wrote that story within a matter of days and am proud of that feat. But it had way more potential than what I turned in. It hurt a bit to submit such underdeveloped work, but I got the class credit I needed so a win nonetheless. After all I only submitted 8 pages. The finished version will be much longer and only the first draft.
I have to edit and finish the manuscript assignment for the end of the semester. So for revision, I am definitely using all the feedback I received from my classmates and professor on the piece. Before I touch the manuscript again, I want to go back to my outline and further it ( if not finish it ). I just watched a video showing writing advice from J.K. Rowling (I didn't finish the whole thing), and at one point she made a point about the importance of her knowing everything she can and needs to know about the world of her story. Even if every detail isn't given to the reader, the author has got to know the world of the story. And looking back at my tiny little manuscript, it's kind of obvious that I am just getting familiar with the world of my story.
So the first thing is to really develop my outline and planning so that I could establish what I need to establish and then I want to go back in and write the story.
Overall I sort of loved writing the manuscript even though I was half-stressed about assignments while doing so.
So what did I learn?
That I love to write
Just write. This may seem ridiculous but when things got a little tough, I just kept writing ( even if was nonsense)
Ideas don't really run out. They often need different kinds of keys to be unlocked (different perspectives, a second opinion, a never-give-up attitude, writing stamina, discipline, a new environment, even a break or vacation, )
Even though writing is something I enjoy, when I am writing a story it is truly an art for me to struggle through to make things work
That first drafts are to be written no matter what
That I need to build on my writing stamina
I need to see/figure out how to make my scenes connect and can flow together more seamlessly
This piece was amazing in so many ways and sort of stressful. But after I finish a version of it to be submitted by the end of this semester, I am going to use it for my next big project. Call it a surprise if you will and stick around to be some of the first to hear the news.
Don't just be a good writer, be a great one
Until my next words (on here that is)
Christa